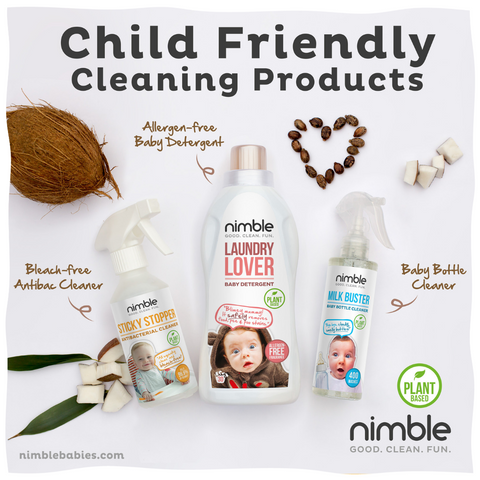 Nimble - Child Friendly Cleaning Products
Nimble's award-winning plant-based cleaning products use naturally-derived ingredients, which work as well as heavy-duty alternatives. Tough on stains, gentle on babies.
How Nimble is different
Plant Based

We use plant based ingredients in all our products which are far gentler than the heavy-duty alternatives.

Quick and Easy

Our products are easy to use and clean up mess fast. 

Highly Effective

We've selected the right tools for targeting different kinds of splotches, stains and stickiness.
Nimble's Story
Nimble was created by Von Sy, who had spent 10 years working as a chemist for one of the world's leading consumer products companies when his niece was born. When he looked into the ingredients into some of his niece's cleaning products, he was shocked by how harsh those chemicals were. More often than not, the existing products were made with petroleum-based chemicals that have been heavily modified to deliver incremental improvements in lab tests.
Von decided he wanted to make child-friendly cleaning products powered by plant-based ingredients that were handpicked to match the things that need cleaning: and that's where the idea for Nimble came from.
Nimble believes that cleaning products around the house don't need to be overly formulated with heavy duty industrial ingredients that are potentially harmful and toxic, especially for young children.
Award Winning
---
Nimble Milk Buster
Nimble Milk Buster is a baby bottle cleaner that uses plant-based ingredients to help you quickly clean milk proteins and fats from plastic.
Unlike common washing-up liquids which are designed to cut through grease, Nimble Milk Buster uses plant-based ingredients that are specifically chosen for their ability to remove formula and breast milk from plastic without resorting to harsh chemicals. Our plant-based formula also has odour-fighting technology so your baby bottles will never smell of old milk again.
---
Nimble Sticky Stopper
Nimble Sticky Stopper is a bleach-free antibacterial cleaner that uses plant-based ingredients to help you speedily remove sticky and greasy residues from a range of surfaces.
The gentle and natural disinfectant kills 99.9% of germs that take up residence on your child's toys, play mats, bibs, high chairs and potties – as well as other surfaces like floors and tables. The natural germ-fighting formula wipes away nasties, leaving you with peace of mind and squeaky-clean toys.
---
Nimble Laundry Lover
Nimble Laundry Lover is a detergent made from 88% naturally-derived ingredients, making it gentle on your kids' skin and free from irritating enzymes, optical brighteners and dyes.
Our unique laundry formula is proven to be as good as leading brands in removing tough everyday stains like tomato sauce, baby food, sun cream and grass… along with the inevitable pee, poo and mud!
---
We're on a mission to unleash clean using plant based products which let babies grow, learn and play in safe environments. Join us on that journey!

---